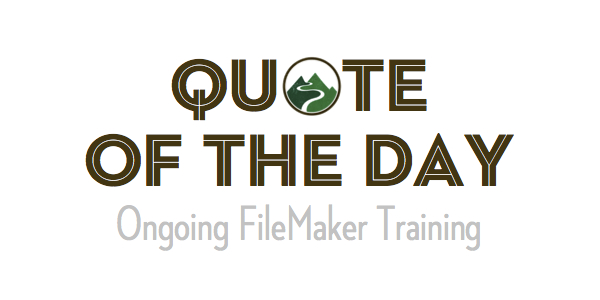 Learn FileMaker All Year Long
Wisdom...comes not from age, but from education and learning.
-Anton Chekhov
If you want to be a better FileMaker developer, then you should commit to learn FileMaker all year long through ongoing FileMaker education. Why?
Well, as we are reminded in this quote, wisdom isn't acquired at a certain age. It's not something that just happens overnight, and suddenly one day you wake up older and wiser. In other words, just because you are getting older each year, doesn't mean you are getting any smarter or wiser.
Instead, wisdom is acquired through a lifetime of education and learning. That means we shouldn't decide to stop learning just because we've finished school, or because we're making a decent living with our current know-how. We should always challenge ourselves to learn more about the topics that we care about.
That's why as a FileMaker developer, ongoing FileMaker education is important.
One way you can achieve this is by becoming a student at Grasp Learning, the Internet's first school for FileMaker Pro. If you want to become a better FileMaker developer, sharpen your skills or advance your career, then Grasp is the place to be.
With Grasp, you can challenge your FileMaker skills all year long. New FileMaker how-to videos, example files, cheat sheets, courses and more will be released each month - so you will always have something new to learn or practice.
Grasp is coming - so sign up today to receive more information using the form to the right.